We were recently visited by B.D. Colen– photographer and Pulitzer Prize winnng journalist. B.D. came to Haiti to learn about our programs and joined us on several mobile clinics. His images speak for themselves but he was gracious enough to put pen to paper and describe his experience with the midwives at Savanne Halein, one of 23 sites we visit monthly.
–
It is called the Mobile Clinic, but a more apt name might be Clinic In A Suitcase. For all it consists of is a battered, shocking pink, Rube Goldberg contraption that once long ago came off an assembly line as a standard Jeep four wheel drive vehicle, a pile of suitcases full of equipment and medications, and a group of American and Haitian midwives dedicated to saving the lives of women and infants here on Haiti's Central Plateau.
 The distance between the tiny three room house in Savanne Halein to which we are driving, and the Midwives For Haiti headquarters in Hinche is only a few miles. But the drive into the countryside, over what can only charitably called roads, through a stream that is a raging river in the rainy season, feels one hundred miles, and one hundred years long.
The landscape is beautiful, but the beauty is misleading, for it masks the reality in this area with the worst maternal, infant, and mortality in children younger than five in the entire Western Hemisphere.
We in the passenger cage on the back of the vehicle don't even have to hold on as we drop into ruts and bounce over rocks on the way to the dot on the map that is Savanne Halein, for we are crammed in so tightly against each other, with most of the equipment that will become a clinic strapped onto the roof, and what doesn't fit there jammed against our feet.
 There is no clinic waiting for us under the hot morning sun, just a tiny, empty, three room concrete house, a few stray dogs and roosters, and a line of pregnant women, and young mothers with infants, already waiting.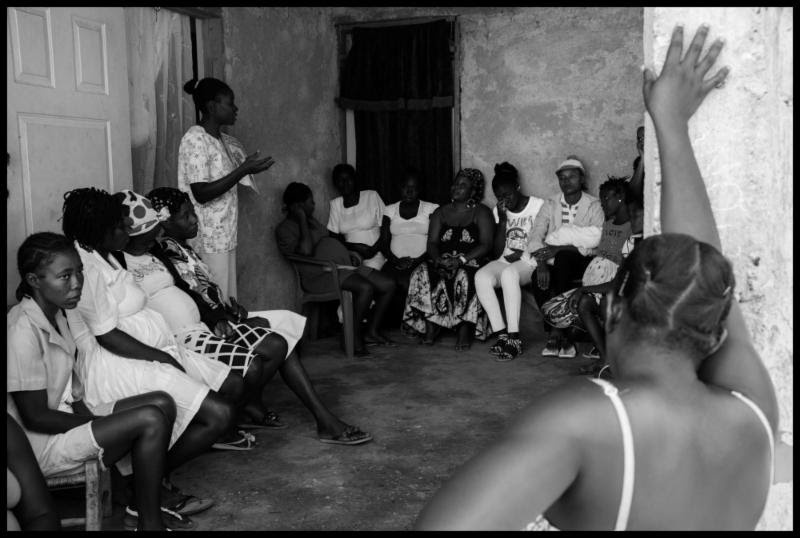 And within less than 30 minutes tables are covered with medical forms, test strips for urine and blood, medical records, and blood pressure cuffs, three beds in one tiny room are covered with clean sheets, benches are lined up for seating, and a combination prenatal and maternity clinic is open for business.
The waiting women take numbers, and uncomplainingly sit in the heat until it is their turn to be weighed, have their vital signs taken, tests checked, and even ultrasounds – ultrasounds! – administered here in an area that has changed little since Haiti won her independence from France 210 years earlier. Many have walked literally hours for this care, understanding that it can mean the difference between life and death for them and for their babies.
And as they drift way, heading home over the surrounding hills after their appointments, these women know that their chances of having a safe birth, and a healthy newborn, have been immeasurably improved by the care they have received here, and will, with your help, continue to receive each month of their pregnancy.